Facebook Home now offers Instagram, Flickr, Pinterest and Tumblr right on the lock screen
6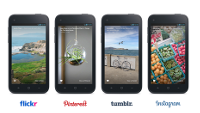 Starting on Monday, Facebook Home started allowing non-Facebook content to appear on the app's lock screen. However, only Facebook for Android beta testers can actually use this new feature at the moment. If you are indeed a beta tester, you need to follow some easy as pie steps to sync those other social networking sites to your lock screen. From the Facebook Home settings menu, you can select which apps you want to sync with. Choices include Instagram, Flickr, Tumblr and Pinterest.
This is an extremely easy process and you once you're finished, you will be able to like and comment on those four sites directly from your Facebook Home lock screen. Or, you can decide to click on a button and get sent to any of the four individual web sites.
While only those Beta testing Facebook for Android can sign up now for the special lock screen content, keep in mind that eventually all Facebook Home users will get to add this feature to the app.
source:
Facebook
via
Engadget