FaceTime video chat over cellular connection won't be possible on the iPhone 4 or iPad 2
23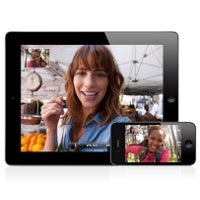 When Apple announced iOS 6 the other day, it turned out that
a bunch of the new features won't work or will be neutered on older iGizmos
. It is fair enough that the complex
3D mapping
feature Flyover
won't work as it should on the single-core A4 chipset of the iPhone 4
, and that Siri-guided navigation will only be present on the iPhone 4S and the new iPad, which actually are the only ones to run Siri, but how about FaceTime over 3/4G?
The iOS native video chat app seemingly won't work over a cellular connection on anything older than Apple's last phone and tablet: "
FaceTime over a cellular network requires iPhone 4S or iPad (3rd generation) with cellular data capability. Carrier data charges may apply. FaceTime is not available in all countries.
"
That's a citation from Apple's website which got a bit lost in the hullabaloo the other day. Now it's anyone's guess why would Apple neuter video chat over 3G/4G networks on its older phones and tablets. It might have something to do with performance, but, oh well, you can always hit the App Store for something like Fring and the like.