iOS 6 coming to older iPhone and iPad models, but not with all of its features
19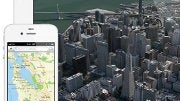 Sure, it sounded great when Apple said that the new iOS 6 will come to the iPhone 3GS and newer models (and it sounded bad when it said iOS 6 is not coming to the original iPad), but it turns out that some of the coolest features will be left out. And the 3GS won't be the only model that will miss a big part of the fun... Here are all the exceptions that you might want to know about:
1. While the new Maps app will come to the older devices, the cool new features - turn-by-turn directions and Flyover - won't be available on the iPhone 3GS and iPhone 4. Sad face :(
2. For a moment there we thought that the updated Siri will hit all iOS 6-powered devices, but no. It'll still be available only on the iPhone 4S and iPad (3rd generation). Probably because Apple hates people using older gear. Just kidding, the reason is probably in the mics used in the older devices.
3. The Shared Photo Streams feature will not be supported by the iPhone 3GS.
4. Strangely enough, the VIP options in the Mail app will not be available in the iPhone 3GS. We doubt that hardware limitations were the reason for this.
5. The same goes for the Offline Reading List feature. No iPhone 3GS support.
6. Finally, the Made for iPhone hearing aids will require you to have an iPhone 4S.
Well, these were some serious feature-cuts, but hey, let's look on the bright side - everything else should be available on your aging iGadgets, and that means you'll still be getting a lot of new stuff! And think about all the performance optimizations that have also been made in iOS 6 - you'll be getting those too. So even with these nasty omissions, considering the other mobile OS's around, we have to admit that Apple is still doing pretty good when it comes to software support for older devices.