Expensive unlimited? After hearty $3.92 billion profit, AT&T shares surge the most in 8 years
4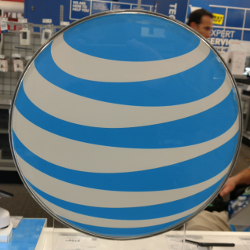 Despite that, or maybe precisely because of the fact that its
unlimited data plan
is the most expensive still, AT&T is again laughing
all the way to the bank
compared to the other major carriers, as we
have shown you before
, as the exodus of phone plan users last quarter was not as major as analysts predicted, and was offset by a big jump in tablet plan subs. AT&T reported earnings that beat analysts' expectations Tuesday after the closing bell, scoring a million more wireless net adds than expected.
What's that in terms of money? Well, the carrier made $39.84 billion in revenue, and $3.92 in net profit, which is not shabby at all, and reflects a successful strategy for moving away from being a dumb pipe for talk and data to the more lucrative media and packaging business. AT&T may offer the
most expensive single line of unlimited
, but when
bundled with DirecTV
, and its streaming
Now
sidekick, the package becomes pretty lucrative. As per CFO John Stephens: "
If you look up and see the details that we provided, those details I provided in my comments, it's pretty clear this ability to bundle, whether it be TV Everywhere, whether it's DTV NOW, whether it's the ability to get all of your video on your phone, is making a huge difference
."
Moreover, the carrier is saying that the
$85.4 billion deal for Time Warner
is still in play, and waiting regulatory approval. If successful, this would make AT&T's transformation from a wireless carrier to a media empire that also owns the airwaves pretty complete. For now, the direct result of AT&T's Q2 earnings announcement is a 3% jump in share price, which is the most that the carrier's stock has done in eight years.