T-Mobile may have led in Q4 postpaid adds, but AT&T laughed all the way to the bank
9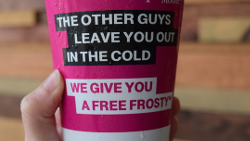 T-Mobile's flamboyant CEO
used the CES show in Las Vegas last week
to give us a sneak peek into the company's past quarter results. Buoyed by aggressive iPhone and Samsung Galaxy promotions, T-Mobile had 1.2 million postpaid net adds, and low 1.28% churn rate.
The reason T-Mobile is boasting these numbers is because they are good, of course. According to Wells Fargo analysts, they are actually the best out of the big four US carriers. Verizon would have added 57,000 postpaid net phone customers, which is much better than predicted, and Sprint would have topped it off with 375,000 postpaid adds thanks to its $100-for-five-lines promo. The biggest slacker in Q4 in terms of postpaids would be AT&T, says Wells Fargo, but that's not necessarily a bad thing for the carrier.
You see, AT&T works with the biggest margins in the industry, and is concentrating on high-end customers, so it's estimated to have a gross margin of more than 35% on revenue of about $19 billion in Q4. Its apparent strategy is that T-Mobile and the rest can have their barely paying customers, attracted by a barrage of promotions, subsidies and discounts, while AT&T makes bank with added services like
DirecTV Now
and others. We can only imagine what will happen if the
Time Warner deal
goes through.