AT&T bundles unlimited data plan and DirecTV Now for as low as $70 a month
6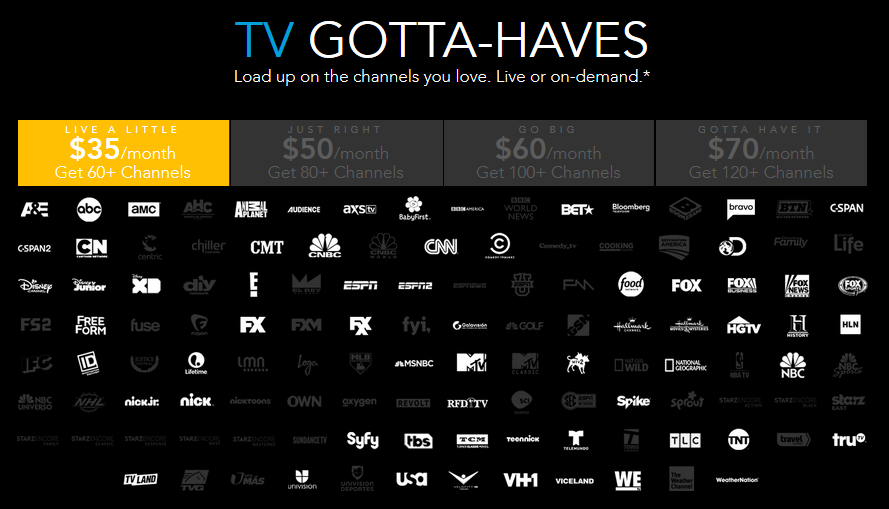 These are the networks that come with the DirecTV Now app on AT&T's $70 a month unlimited bundle
DirecTV Now is an app that allows you to stream more than 60 live channels. Priced at $35 a month, the app has not generated the kind of revenue that AT&T was hoping for. Now, AT&T is offering those who are subscribers to its $60 a month Unlimited Choice wireless plan, the opportunity to subscribe to DirecTV Now for just $10 month after a $25 a month coupon. This bundle gives you unlimited data and all of the "Live A Little" content from DirecTV Now for just $70 a month.
Here are some of the specifics of the $70 bundle:
On AT&T Unlimited Choice a single line starts at $60 a month after AutoPay and paperless bill discount.
The DIRECTV NOW Live a Little package is only $10 more after a $25 per month DIRECTV NOW video credit.
Live a Little includes 60+ top TV channels and over 10,000 on-demand shows and movies. On DIRECTV NOW users can stream from a phone or tablet, or watch in HD on a TV using a compatible device over your home internet. No annual contracts, no hardware.
AT&T Unlimited Choice customers get unlimited data with a max speed of 3Mbps and SD video streaming (about 480p) on our LTE network.
Some things we need to point out. AT&T's Unlimited Choice caps data speeds at 3Mbps and video streaming at 480p. Nothing spectacular about that. Keep in mind that those using 22GB of more of data in any given month could find their data speed throttled during periods of heavy cell traffic.

AT&T Unlimited Plus customers can use their $25 monthly credit toward video credit for DirecTV, DirecTV Now or U-verse TV. In addition, the premium Unlimited Plus plan, which costs $90 a month, includes the ability to stream HBO on your AT&T device, and receive 10GB of high speed data per line for tethering from a smartphone.
Both AT&T Unlimited Choice and Unlimited Choice Plus plans allow you to add a tablet or other connected device for $20 a month. You can also make unlimited calls and use your data in the U.S., Canada and Mexico. And texts can be sent from the states to over 120 countries.
If you love streaming video, this could be the package for you. Visit your local AT&T store or click on this link.

source: AT&T