Ex-Nokia chairman admits: "we were not successful in using Microsoft's OS"
66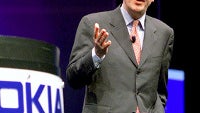 An ex-Nokia chairman who was involved in the process of selecting the new Nokia chief executive officer in 2010 claims Stephen Elop wasn't the company's first choice, but after a mysterious first candidate declined due to personal reasons, Elop was selected.
The mysterious executive who is said to have been the primary candidate is described as a man in his 50s, the second most important person
"at a well-known American technology company,"
according to the former Nokia chairman Jorma Ollila. You can go on and speculate (and of course Tim Cook comes to mind right away), but the ex-Nokia executive does not mention a name.
Elop became the Nokia chief executive later in 2010 as he was considered to be "a good salesman and a decisive corporate executive." You all know the story from there on - the
"burning platform" memo
that became the doomsday for Symbian, sales and revenue nosediving, Nokia adopting Windows Phone exclusively and as company's fortunes declined it was bought for $7.2 billion by Microsoft. That's just around a third of Nokia's value in 2010.
The sad story continues with Ollila admitting that using Windows Phone exclusively at Nokia has failed.
"We were not successful in using Microsoft's operating system to create competitive products, or an alternative to the two dominant companies in the field,"
the ex-chairman said.
At the same time, Ollila notes that it's
"impossible to say what would have happened to the company if different decisions had been made in early 2011 or at some other time."
If (or rather after) Microsoft is approved to acquire Nokia in 2014, the Finnish company will focus on its maps and network, while all phone business will now happen under Redmond rule.
source:
Helsingin Sanomat
via
The Verge