Ever wondered what a giant Nokia Lumia would look like? This is the closest thing you're gonna get!
32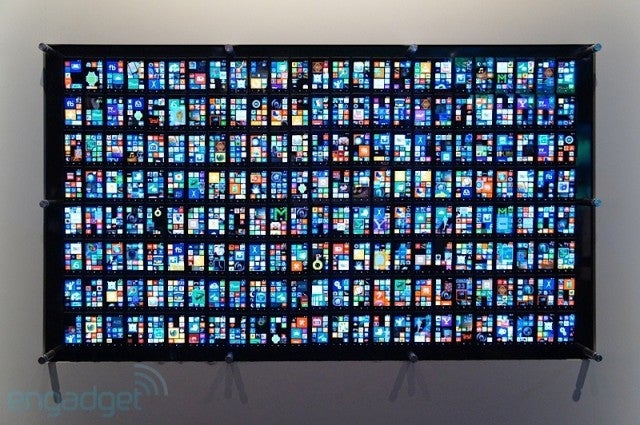 PhoneArena has been liveblogging Microsoft's Build 2013
Developer Conference and among other heart-warming happenings throughout the day –
like a free Surface Pro
– Microsoft had another awe-inspiring jewel tucked away, letting it be known that geeks can be cool, too!
As if from a twistedly magnificent fantasy comes
a giant Nokia Lumia-esque wall comprised of exactly 200 Lumia 820
, eclipsing
earlier efforts by Sony and its 196 Xperia ZL grid.
In case you're wondering,
the Lumia wall gets you exactly 12000x6400 pixels perfectly synchronized
by a custom app built specifically for the occasion allowing a master device to communicate with the 'wall' over Wi-Fi. Among the different demos was a giant Bing Map running across 200 devices in unison and even a series of the typical Windows Phone live tiles, each representing a different app available on the WP Store.
We've struggled coming up with a name for the little marvel, so help in the comment section below will be appreciated. The Lumia TV? The Lumia 82.0-incher? Go wild!
source:
Engadget
Recommended Stories