Eric Schmidt says Android's door still open for Nokia, should it change its mind
18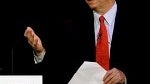 In his keynote speech today Eric Schmidt talked in Google's usual frank way about the Nokia Windows Phone. "
We would have loved Nokia to choose Android and we certainly tried... The offer remains open for the future.
"
Now this is some straight talk. It's been just a few days since Nokia announced its
deep partnership
with Microsoft, and most comments were pointing out how the old fox Ballmer planted Stephen Elop at the helm to drive Nokia right into his arms, exerting pressure on Nokia's board through its largest American shareholders.
Whatever was going on behind the curtain at the time, one thing is certain now - Android definitely was an option for Nokia, but at the last possible moment (last Thursday, if you believe Stephen Elop), it went with the underdog Windows Phone.
For what it's worth, Eric Schmidt also mentioned that they still consider Microsoft their main competitor. Not Apple, nor Facebook, but Microsoft. After all, despite all the hype, Facebook still hasn't monetized its popularity, whereas Microsoft has established revenue streams and is getting big in cloud services.
Tying these together and placing them on a Nokia Windows Phone might be as disruptive as Google throwing a wrench into Apple's quest for mobile dominance with the purchase of Android. The move is typical Microsoft - wait for a market to mature, and then go all-in, guns blazing, to take advantage of the already established best practices. Anyway, those
Nokia Windows Phone renders
from yesterday look cute as a button, and not formidable at all.
via
MocoNews