Enough with that USB! Here are 6 apps for wireless phone-to-PC transfers.
34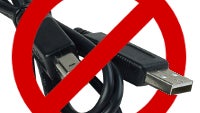 It's true, folks – we live in the cloud era. Almost every essential thing you need is on your Google Drive, OneDrive, Dropbox, iCloud, Google Photos, Evernote, Keep, Play Music, Apple Music, Spotify, et cetera. Having to connect to your PC to transfer pictures, music, and documents is a thing of the past.
Still, we do find it a bit easier, from time to time, to link our phone with our PC and transfer files directly, instead of dropping them off on the cloud and forgetting them there forever. Perhaps it is because this is such a rare occurrence that we find the need to use a USB cable to do it even more of a nuisance.
Well, thankfully, there are some solutions out there that will allow you to transfer any type of files across devices without any type of wire, quickly, and easily – no cloud involved. Here are 6 of the best ones out there:
One of the oldest apps to offer such functionality, AirDroid has grown and stayed in the game throughout the years. It links with your computer via PC software and displays notifications and calls, as well as allowing for transferring of files in both directions.
Pushbullet
Another strong competitor, very similar to AirDroid in that it also mirrors notifications, calls, and makes file transfers as easy as dragging and dropping. Pushbullet is also available for iOS, so iPhone owners – rejoice!
WeTransfer

This app allows you to upload a large package (up to 10 GB) temporarily on its servers, then share a download link with anyone you wish to send it off to – including yourself. Could provide useful for huge files.




Infinit

Infinit can be installed on all your devices and you can push any file to any one device. It works on a similar principle like WeTransfer – the files get temporarily uploaded to Infinit's servers, which means that you shouldn't worry about both devices being on and connected for the transfer to work.




Sunshine

Sunshine takes a slightly different approach – instead of copying files over to your devices, it allows you to stream your files cross-platform. For example, we can have a gallery of pictures on our iPad at home. Granted it has Sunshine installed, we can access it with our Android smartphone when we are out and about, and view our pictures and videos without copying it over.


Portal
Portal is all about getting files from your PC to your phone quickly and easily. Just download the app, visit portal.pushbullet.com from your PC, and scan the QR code you see on the screen. From that point onward, you choose which files you wish to be uploaded to the phone, and you're done (requires Wi-Fi).