Emoji usage soars according to Instagram
3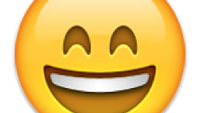 According to Instagram, it was the release of the iOS emoji keyboard in 2011 that started the amazing surge in emoji use on the Instagram app. Back when Instagram was an iOS exclusive, less than 5% of texts and captions posted on the app contained the symbols. No more than a month after Apple started supporting emojis on iOS, 10% of texts (and captions) on Instagram included at least one.
That figure rose to 20% and didn't go higher until two things happened. The
Android version of Instagram was launched early in 2012
and the stock Android emoji keyboard was launched in July of 2013. Those two events kicked off the next surge in emoji use on Instagram. Currently, almost 40% of texts and captions posted on the app contain at least one emoji.
Finland is the country where emoji use is the highest at 63%. France is next at 50%, followed by the U.K. (48%), Germany (47%), Italy and Russia (45% each). U.S. Instagram posts contained emojis in 38% of texts and captions. Tanzania uses emojis the least with just 10% of the texts and captions from that country featuring one.
The smiley face, which can be used to say things like "lolol, lmao, lololol, lolz, lmfao, lmaoo, lolololol, lol, ahahah, ahahha, loll, ahaha, ahah, lmfaoo, ahha, lmaooo, lolll, lollll, ahahaha, ahhaha, lml, lmfaooo," is the most widely used emoji on the app. Instagram has also discovered that these symbols are beginning to replace internet slang like LOL and OMG
So why the intense interest in emojis? Just recently, Instagram added a new feature that
allows you to use an emoji with a hashtag
. Who knows, perhaps the written word will disappear completely in place of emojis. It wouldn't be the first time that symbols were used to communicate. The early Egyptians had their own emojis which we call hieroglyphics.
source:
Instagram
via
Engadget