Dutch court finds rounded corners on Samsung tablets don't infringe on Apple's design
29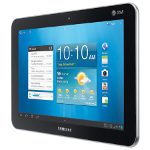 Samsung GALAXY Tab 10.1
,
Samsung GALAXY Tab 8.9
, and the
Samsung Galaxy Tab 7.7
were accused by the Cupertino based tech titan of copying the rounded corners found on the Apple iPad. Apple and Samsung are involved in legal battles over patents in at least ten countries.
In the U.S.,
Apple owns patent Patent number D670,286 issued by the USPTO
for "the ornamental design for a portable display device," which basically covers a rectangular device with a
screen and rounded corners
. The U.S. patent does not offer Apple protection in the Hague. Samsung issued a statement that said that it does not feel that Apple was the first company to use rounded corners, essentially stating that prior art should invalidate any patent Apple has received for the design.
"We continue to believe that Apple was not the first to design a tablet with a rectangular shape and rounded corners and that the origins of Apple's registered design features can be found in numerous examples."-Samsung statement
source:
Reuters