Dual-screen YotaPhone 2 packs a 5" 1080p screen up front and… e-ink display on the back
22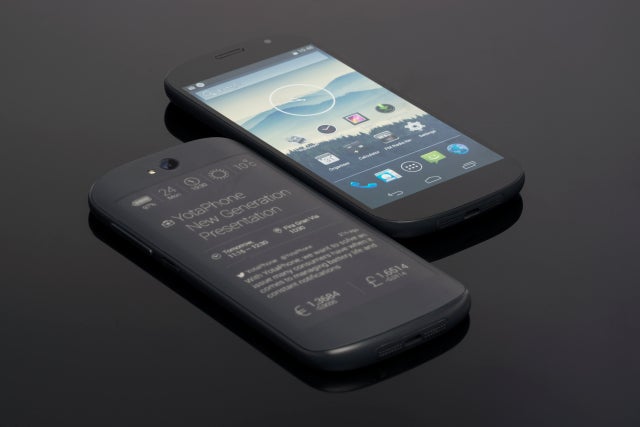 The YotaPhone brought an interesting new idea - instead of having a useless plastic back cover, why not replace a smartphone's rear side with an e-ink display? The first YotaPhone materialized it late last year, but it was lacking in specs and the e-ink screen was not touch enabled and thus - it was not fully functional. Luckily, Yota Devices, the Russian company making the phone is devoted to polish and perfect the idea, and it already has a working prototype of the second-gen YotaPhone that fixes a lot of the issues with the first one.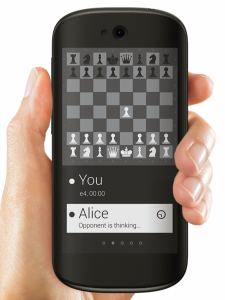 First and foremost, the YotaPhone 2 adds a full-fledged touch-enabled e-ink display on the back and it completely rethinks the clunky original design. With a slight curvature around the screen, it looks as if it was taken out of a concept video with a pebble-like futuristic look.
"Now you can not only get the information you need and see it but you can interact with one touch, and you can respond to messages. Or email. Or you can accept a meeting invitation. The whole user experience with the backside of the phone becomes much better – this is full touch so you can swipe, you can up and down, it's basically much more intuitive," Yota Device CEO Vladislav Martynov said.
Best of all, if you choose to use just the rear display, you should expect to squeeze 58-68 hours out of the battery which is a full three days off the charger, according to Yota Devices. Impressive.
In terms of specs, the YotaPhone 2 does not hide any of its future internals - it will ship with a quad-core Snapdragon 800 chip, 5-inch 1080p AMOLED display up front and a 4.7" 540 x 960-pixel e-ink on the back, an 8-megapixel camera, and the
'latest'
Android version. It will support 4G LTE connectivity as well.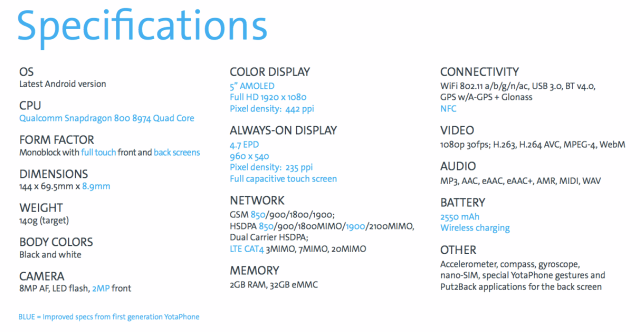 The new YotaPhone does not have an official price tag yet, but Martynov said that it will be priced 10 to 15% lower than flagship devices at the time of the launch. The company is also taking care of existing YotaPhone 1st gen owners, who will get a big discount if they trade in their old device.
Best of all, Yota Devices is aiming for an international roll-out this time and it will try and bring the YotaPhone 2 to the United States and China. Additional 20 markets in the EMEA region will get it by the end of 2014.
source:
Engadget