Draw Something 2 lands on iPhone and iPad
1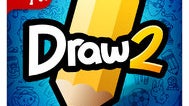 For starters, over 5000 new words have been added to the Draw Something 2 dictionary, including 9-letter words and phrases. Players now have a broader selection of drawing tools, including the Pixel pen, Pattern pencil, Marker, Highlighter, Crayon and more, with a palette of over 100 colors to pick from. In addition, there's a "Free draw" mode added and a Gallery where players can save their masterpieces.
Draw Something 2 can be played for free, with ads displayed between turns, but those who wish to do so can go with the game's premium version, priced at $2.99. It features a new Sparkle Pen, free star and coin bonuses, and thousands of extra words to draw.
At this time it is early to say whether Draw Something 2 will be a success or not, but positive reviews have already started to accumulate. Perhaps this might be what will bring Zynga back into profit? Only time will tell, folks. Meanwhile, feel free to give Draw Something 2 a shot.