Double trouble: LG V10 is packed with novelties, are you getting one?
43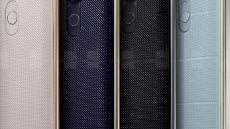 LG went all-out with its new and unique
V10
handset, just
as promised
. Apart from the Snapdragon 808 chipset, it is stuffed to the gills with the latest and greatest in smartphone technology, such as a big 5.7" Quad HD display, 4 GB of RAM, 64 GB storage, and a 16 MP main camera with OIS. We can understand why LG went with the 808, as it's still plenty powerful for anything thrown at it, and doesn't have the heat-dissipation issues that would arise with an 810. LG, however, more than compensates by offering a replaceable battery and a microSD card slot - things that are on the list of disappearing species with other major cell phone makers.
Those goodies above were just a start for LG, though, as it also adds a secondary, 2.1" screen in the front, for your date/time, notifications, message preview, and favorite app shortcuts to be displayed at all times. As if a unique dual-screen setup is not enough, LG also doubled down on the front-facing cameras, too, providing a 5MP Dual Lens (80 degree / 120 degree wide angle) camera in the front, for those all-important selfies to be taken wild and "groufie" even without a stick. To top it all off, the V10's frame is made of surgical steel, while the Dura Skin cover cushions any drops
up to a MIL-STD-810F standard
.
Oh, did we mention the 32-bit sound with dedicated ESS convertor, and the tri-mic directional setup that allows adjusting the sound while recording a video in manual mode. Well, the V10 has those, and comes in many intriguing colors, so there is only one question to ask, are you getting it?