The LG V10 is MIL-STD-810G Transit Drop compliant, and here's what that means
13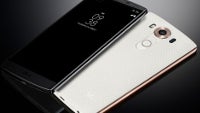 The
LG V10
, announced yesterday, is a big deal for the company and tech geeks alike. It's LG's first phone to feature 4GB of RAM, their first to sport a fingerprint scanner, and also first-to-market with a seriously comprehensive manual mode for video. Add to that a set of selfie cameras up front, a secondary, 'ticker' display up top, and an awesome, 16-megapixel camera with extremely wide,
f
/1.8 lens, and you've got yourself
one hell of a high end smartphone
.
The V10 is also LG's first global smartphone to mold metal into the design, with a type 316L, SAE-grade (Society of Automotive Engineers) stainless steel frame. It's used in cars, folks. Yes, we know, some of you would have preferred for the entire thing to be made out of steel, but don't sell the V10 short just yet — LG is using a special kind of rugged plastic for the back and the front bottom bezel, called Dura Skin.
In LG's own words, Dura Skin is not to be underestimated, for all its softness, it's supposedly highly resistant to nicks and scratches. Even more, the textured back was designed as to provide a more secure grip. And if that wasn't enough, LG actually contracted
MET Labs
(notice the missing 'h' here, please) to prove just how sturdy the phone is — the company got green light on labeling it MIL-STD-810G Transit Drop compliant.
This cryptic acronym probably means little to you, so we thought we'd explain. MIL-STD-810G certification was put into use in 2008, and supersedes the older, MIL-STD-810F standard. It's a collection of procedures that outline the way products should be tested, and covers a handful of areas and scenarios. In the case of the LG V10, the area examined is Transit Drops, which means the phablet survived quite a few chute-less jumps.
Now, some bits of the procedures aren't set in stone, and LG didn't get into the nitty-gritty of it, but generally speaking, this means that the V10 likely survived up to 26 drops in total, from 4 feet high, on its face, edges, and corners. From what we know, MET Labs uses 2 inches of plywood on top of concrete as the drop zone, supposedly representing the most common type of surface your device will likely begrudgingly acquaint itself with. The V10 then must have been inspected by MET Labs professionals for damage and working condition, and obviously passed. So if you were on the fence with the V10, this might just be the push you needed to go ahead and pre-order one.