Don't miss our Windows 8 coverage today!
5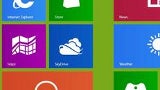 In case you haven't noticed, today is Windows 8 day! Microsoft is officially launching its newest operating system and it's looking to make a bang as big as possible.
Not that we don't already know quite a bit about Windows 8, but the software giant obviously wants to do this the right way - with a dedicated event in NYC, where we expect it to talk about some new details about the OS, as well as its key features which we already know. As far as devices go, we aren't really sure if there's going to be something new that will get unveiled, but there's still a good chance that there will.
Tune in to PhoneArena, as we'll be following Microsoft's official launch of Windows 8! We will keep you posted about the latest developments with a liveblog, news coverage as well as other interesting articles, so it'll be lots of fun (if you're a geeky soul, that is)!
The event is scheduled to start at 11:15 AM EDT | 10:15 AM CDT | 08:15 AM PDT | 05:15 PM CET | 03:15 PM GMT.