Does the Samsung GALAXY S II get you excited?
75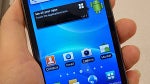 Okay, we asked for it, and we got it... albeit later than we'd like. At an
NYC event
held yesterday, Samsung
finally announced
the long-anticipated versions of the Samsung GALAXY S II, designed for the U.S. market. Three of the four major U.S. carriers will have the honor of making their geeky customers happy, namely -
AT&T
,
Sprint
and
T-Mobile
. Unfortunately, a couple of days prior to the event, it became clear that
Verizon will not offer a version
of the galactic handset.
What we wonder though, is exactly how many of you, guys and gals, are actually excited about the GALAXY S II, and how many of you plan to get the device... Because, if Samsung's flagship had come out in the U.S. at roughly the same time that it came out in the other parts of the world, it would have been a terrific option. However, now, several months later, it somewhat makes us think about how much of those blazing qualities have remained, when we factor in all that has happened during that time. Indeed, we've seen some awesome handsets hit the shelves like the
Motorola PHOTON 4G
for Sprint, the
DROID X2
and
DROID 3
for Verizon, the
HTC Sensation 4G
for T-Mobile... all of these are phones that can easily go toe-to-toe with the still remarkable GALAXY S II.
It is worth noting though, that Samsung doesn't seem to be willing to leave anything to chance, and so it has made sure to upgrade its U.S. galaxies a bit, utilizing goodies such as faster processors and even some bigger screens. In theory, this should refresh the GALAXY S II enough to make it a worthy competitor on the Android front for the second half of the year. But of course, there are other heavyweight opponents that are expected to appear soon (
Nexus Prime
,
DROID BIONIC
, iPhone 5), so we guess choosing your next smartphone will be tough.
So how about that you share your thoughts on the matter with us? Considering all of these outlined factors, does the Samsung GALAXY S II continue to get you excited? Or has the magic worn off due to all that waiting, and your eyes are now firmly focused on rival offerings? Now's the perfect time to truly sound off and express your own opinion!