T-Mobile Samsung Galaxy S II Hands-on
14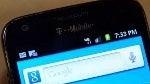 Unfortunately,
T-Mobile's version of the Samsung Galaxy S II
didn't want to play along with the other two smartphones unveiled at Samsung's press event. Instead, the handset was simply placed under glass for us to look with our eyes only – so it wasn't manhandled by anyone at the unveiling.
Regardless of that, it has more in common to Sprint's version since it also features a sizable
4.52" Super AMOLED Plus display
. Overall, it doesn't deviate from the original's design characteristics – except for the noticeable T-Mobile branding upfront. Additionally, we find it sporting that familiar glossy black plastic shell as well, which should contribute in keeping its weight significantly down.
To tell you the truth, very little was made known about the handset besides its Super AMOLED Plus display, dual-core processor, TouchWiz user interface, and 4G network connectivity & speed. So far, there's no word on pricing and availability, but it shouldn't surprise us to see it flaunt that usual $200 on-contract pricing when it's released. Still, you never know what kind of other tricks they can pull out of the bag with this one before it's officially launched.