AT&T Samsung Galaxy S II Hands-on
15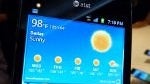 Out of the three new devices unveiled at Samsung's press event today,
AT&T's version of the Samsung Galaxy S II
appears to be the most
faithful
one in design to the original international GSM version. We can't say that's a good or bad thing, but it still would've been nice to see it get some sort of minute change to give it a personality of its own. Nonetheless, it's still remarkably lightweight, razor thin, and one
solid feeling
smartphone that's sure to capture the attention of bystanders.
Turning it on, we're obviously captivated by its gorgeous looking
4.3" Super AMOLED Plus display
, which radiates plenty of delicious looking colors to make our eyes gush with joy. Needless to say, saturated and rich colors are the kind of things we expect to see with this specific display technology, but it helps that things are still detailed enough to make out with the eye – albeit, its resolution was not confirmed at the event.
In terms of the platform experience, it's smooth and responsive thanks to its
1.2GHz dual-core Samsung Exynos processor
under the hood. In fact, we're amazed that it's able to flaunt fluid navigational control while loading up our web site. And at the same time, it's showing off why it's one powerful smartphone capable of delivering a refined experience in just about everything you do. Moreover, the latest version of
TouchWiz
running on top of
Android 2.3 Gingerbread
brings forth some iterative improvements that might seem appealing to some people.
Thinking about it more, it's somewhat of a bummer to see AT&T's version keeping still with its display size – as opposed to moving it up a bit like the Sprint and T-Mobile versions. Even more, the Samsung Infuse 4G is still going to retain the crown when it comes to that specific aspect. Indeed, it's going to be difficult for AT&T's version to stand out amongst the bunch, especially when it's very similar to the original one overseas, but we're still sure there are plenty of AT&T customers waiting for the chance to snatch it up.