Samsung Epic 4G Touch Hands-on
32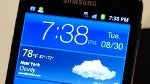 Last year,
Sprint
managed to differentiate the Samsung Epic 4G enough to make it a substantially fresh handset over all the other Samsung Galaxy S variants released at the time. Well, they're retaining the handset's name for the most part, but as its new name implies, it's simply going to be a full touch device this time around. Officially headed to the Now network on
September 16th
for the 2-year contract price of
$199.99
, the
Samsung Galaxy S II Epic 4G Touch
for Sprint is striving ahead of the pack in making it to market first.
At its core, it retains the original's design and form factor, but what's different is the fact that it's considerably more streamlined and lightweight – due to the omission of a physical keyboard this time around. However, it feels
unwieldy
to hold in the hand at times due mostly to its sheer overall size. Of course, its decision to pack on a massive
4.52" Super AMOLED Plus display
is undeniably the main reason why it's so large, but at the same time, it's one of the first things to capture our eyes. Overall, there's nothing too extravagant with its design, especially when it's clad in that familiar glossy piano black plastic.
Quickly navigating around the platform, which is running the latest version of
TouchWiz on top of Android 2.3 Gingerbread
, we notice its sense of speed in almost every action. Naturally, its blazing
1.2GHz dual-core Samsung Exynos processor
is providing all of the horsepower required in making this handset move efficiently – and it definitely shows in our quick inspection. Concurrently, there's plenty of personalization thanks to the latest version of TouchWiz, which offers updated widgets and live panels to make it feel complete from head-to-toe.
All in all, there's plenty to like with Sprint's version because it's drastically different from the Epic 4G, but it's still very similar to the international version at its heart. Nonetheless, it's not going to be too long before Sprint customers will have the fine opportunity of being the first in the country to experience its full glory.