Do you use your cell phone while driving and for what: Poll results
14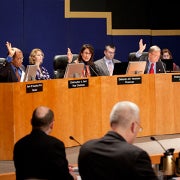 In light of the NTSB's (National Transportation Safety Board) recent
request for a ban on all electronic device
usage (yes, phones included) behind the wheel, we
asked you last week
if you have the unhealthy habit of using your cellphone while driving. Now, we're ready to share the results of the poll with you, and we have to say that we're delighted to see that almost all of our readers are exceptionally strict, and taking safety very seriously!
To be more specific - our readers always make sure that all the doors of the vehicle are tightly closed, and that they have their seat belts on, before they set off. If they are driving during the night and it's dark outside, headlights are an absolute must - no compromise whatsoever! Young drivers? They always have an experienced one next to them, just in case. All of this comes to show that we fully understand our responsibilities on the road and are always putting safety first.
We guess this would have allowed the participants in our poll to be some very responsible drivers... if they actually weren't totally obsessed by their smartphones, to the point of being unable to get their eyes off the screen, and set them on the road. That's right, maybe we would have had a bit socio-friendlier results if we were a food-recipe site, but since we aren't, PhoneArena readers made a clear statement, with a majority of 36.25% saying they use their handsets for whatever they want — including calling and texting — while in the car (we do appreciate your honesty). Now that we've recognized how badly we need a change in our habits, feel free to check out what else our readers are using their phones for while driving below.