Do you try beta updates on your phone?
14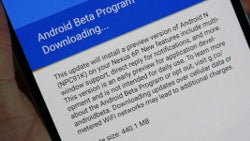 For a while now, it has been customary for device manufacturers to offer public beta builds of their unreleased software to... well, the public. Apple has a
running beta program
for iOS releases, Sony has had it
for the Xperia flagships
and their Android builds, and Samsung currently has one running for the
Galaxy S8
and
Android 8 Oreo
, to name a few.
It's a sort of a deal between the manufacturers and the eager early adopters — users get to see and test the newest software before it's even official, but they have to endure some bugs; developers get tons of testing done for free. In other words, it's a win-win.
But it's always a good idea to backup your phone and be mentally ready that something might go terribly wrong and you might have to wipe your device. Some manufacturers even advise users only use a secondary or old unit for testing purposes. But where's the fun in that, right?
So, we thought we'd ask you — how many of you test beta builds of upcoming OS updates on your daily drivers?