Do you think that the double-tap-to-wake gesture should be standard on all phones?
72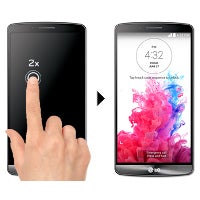 There are plenty of innovative ways to operate our ever-bigger phones with one hand, and Samsung, LG, Sony, Apple and others have come up with
their own takes on one-handed modes
. These range from more complex features like shrinking the whole interface, to simpler ones, like a swipe from the left edge of the screen being used as a back key.
One option we find particularly useful on a day-to-day basis, though, and it is
double-tapping the screen to wake the phone
, or put it back to sleep. Once you try it, fumbling with the power/lock key on the sides or the back already seems too cumbersome, and we wish that every and all manufacturer implemented the double-tap gesture.
For now, it is fully present on the kernel level only in LG's flagships, but Sony and some others are quickly following suit, yet it's not present in the stock Android build, even the latest
5.0 Lollipop
. Nokia phones, however, also introduced the goods. That is why we wanted to ask if you think that double-tapping on the screen to wake the phone or put it to sleep should be a built-in feature of all Android handsets, or do you find the physical keys fast and convenient enough for that purpose. Take your pick below, and chime in the comments.