Distributors demand more Galaxy S6 edge units, Samsung runs out of touchscreen panels
26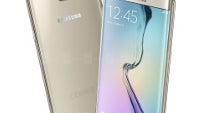 A couple of weeks ago, we heard a report that Samsung is working hard to
boost production
of the
Galaxy S6
and
Galaxy S6 edge
, looking to ship 13 million units by the end of April, based on huge demand. Our of this number, just 4 million were planned to be the uniquely curvy Galaxy S6 edge. Of course, this is understandable, as the handset is both much harder to build, and could end up not appealing to many due to the unorthodox form factor.
Well, it seems the latter concern is out the window, as Samsung is now on the hunt for more suppliers for its arched-glass hero, as it intends to triple the production of Galaxy S6 edge units. According to new estimates, based solely on interest from distributors, the company expects the curved version of its flagship to sell just as well, if not better, than the "regular" Galaxy S6.
The large demand took its toll on the touchscreen panels stock and Sammy's main supplier (Alps Electronics, Japan) is said to be struggling to keep up. That's why, word is, Samsung will be looking for additional screen manufacturers in its own country to help out. No certain names have been given yet, though, a company called S-MAC has been mentioned.
Interestingly, an earlier rumor said that the supplier for the curved protective glass units for the Galaxy S6 edge's face is also having
trouble of its own
, with just a 50% yield, keeping production costs high and output low. Back then, it was said that Sammy will be looking for additional glass suppliers as well.
So, the Galaxy S6 edge's sleek curve seems to be drawing the attention it rightfully deserves, which, apparently, caught even Samsung off guard. Fingers crossed that the last-minute supplier hunt doesn't result in a drop of quality. But, keeping faith and assuming all will be fine, would you say that the edge has the potential to actually become Sammy's most popular phone this year, overshadowing the "mainstream" Galaxy S6?