Samsung reportedly boosts production volumes for the Galaxy S6 and Galaxy S6 edge
29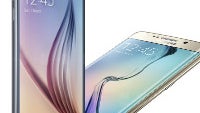 Well, folks, the Galaxy S6 and S6 edge are basically a reality, with only weeks left before you're actually able to pre-order one. Samsung expects its new phones to have
record-breaking sales
, as it has put a large amount of effort into reimagining the Galaxy S series to look sleek, classy, and premium-grade. It appears that mobile carriers believe they will be able to sell a lot of the new handsets as well, as Sammy's business partners have, reportedly,
pre-ordered 20 million units
– 15 million of the
Galaxy S6
and 5 million of the
Galaxy S6 edge
variant.
Now, another rumor reaffirms that the metal-and-glass Galaxies are getting quite the attention – allegedly, Samsung has boosted production and is now looking to build 13 million units by the end of April, 4 million of which will be the Galaxy S6 edge.
Yes, the curved fella will get a smaller volume of units, and there may be a couple of reasons for that. First of all, we've heard that the arched screen is
not exactly a piece of cake to produce
; and secondly, the S6 edge is still considered a bit of a niche device – while much more streamlined than the Galaxy Note Edge, the handset still sports an unorthodox shape, which will probably cause some mistrust in the mainstream user in terms of handling, case and screen protector options, et cetera, so it is reasonable to expect that most customers would flock around the more familiar shape of the "regular" S6.
As for when you will be able to get your paws on one of the new Galaxy flagships – global roll-out will begin on April 10th, while pre-orders should open around the 1st of April – at least that's when you will be able to
reserve one from Verizon
.