Rumor: Samsung looking for 3D glass suppliers as main contractor struggles with low yield
17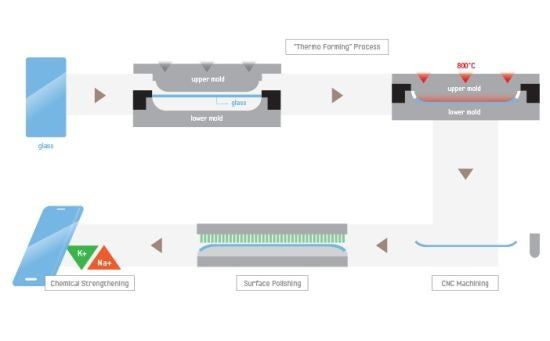 Earlier rumors about Samsung having
trouble with the production of the curved glass
for the
Galaxy S6 edge
have been reaffirmed. According to the newest whispers, the supplier, tasked with building the arched panels, is struggling with a yield of less than 50%. This means that Sammy will definitely end up with less materials for its screens than it predicted – the company expected to have around 8 – 8.5 million curved glasses for the second quarter of 2015, while at this rate it seems it will only have about 6 million. So, word is, the Korea-based tech giant is looking for additional suppliers.
The molding process for the Galaxy S6 edge's curved screen is not a simple one – it requires specialized machinery, which twists the glass symmetrically, after heating it up to 800 degrees Celsius (1,472 Fahrenheit). Apparently, there are still a lot of kinks to iron out, as losing 50% of the production materials is a pretty terrible yield – probably one of the main reasons for the "edge" variants of Sammy's handsets to be
less available and more expensive
than the "plain" models.
The Galaxy S6 edge will be
available for pre-order
somewhere around April 1st and Sammy will be
looking to build
4 million units by the end of that same month. If you don't manage to get your hands on one, the
Galaxy S6
will be more widely available, as Samsung will be making around 9 million of them for the same time period.
So, will you be waiting?