Display brightness and outdoor visibility comparison: Samsung Galaxy S8 vs iPhone 7 vs LG G6 vs Google Pixel vs Sony Xperia XZs
99+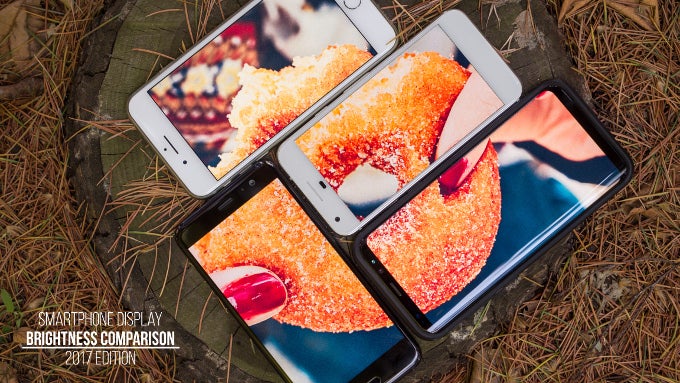 It's summer in the Northern hemisphere, but you surely have noticed already: the temperatures have hit new record highs and the mood has quietly settled into that relaxed summer vibe.
Whether you are spending your spare time by a swimming pool, the beach or hiking the mountains, you are most likely accompanied by the one device that never leaves your pocket: your smartphone.
Mirror, mirror on the wall, which one is the brightest of them all?
Unfortunately, using a smartphone in the summer days can be a pain for one very simple reason: the sun shines so brightly that it's hard to see what's on the screen! You need to crank the display brightness all the way up, and even then you squint and stare to see that message or to take that picture. And you might just start to wonder: are there phones that are easier to see outdoors?
We took six popular flagship to this exact test: which one has the most legible screen outdoors? The six phones that we tested are right below, where you can see some key technical data about their displays.
Phone
Screen Size
Screen Tech
Resolution
Max Brightness

Apple

iPhone 7 Plus

5.5"
16:9 ratio
LCD
1080 x 1920 px
672 nits

Samsung

Galaxy S8 Plus

6.2"
18.5:9 ratio
AMOLED
1440 x 2960 px
565 nits

Google

Pixel

5.0"
16:9 ratio
AMOLED
1080 x 1920 px
398 nits

Sony

Xperia XZs

5.2"
16:9 ratio
LCD
1080 x 1920 px
511 nits

LG

G6

5.7"
18:9 ratio
LCD
1440 x 2880 px
506 nits

OnePlus

5

5.5"
16:9 ratio
AMOLED
1080 x 1920 px
435 nits
Let's get to the test...
The iPhone 7 Plus and Samsung Galaxy S8 are the two top dogs when you look at the charts: they are able to reach brightness levels above 550 nits. The higher this number, the easier it is to see what is on the screen of a phone. The Sony Xperia XZs ranks third, but it's a close third, and then we have the G6 at the fourth spot. The OnePlus 5 and Google Pixel get much lower peak brightness levels than the other four. However, it is not just about brightness: in real life, the reflectivity of the display also matters a lot. That is why we took these six phones out in the field in the summer heat and photographed them.
Here are the results of our investigation:
Disclaimer:
We performed all tests outdoors under direct sunlight. This creates a challenge for every camera: a dynamic scene that cannot be captured realistically in a snap. That is why to get a realistic representation of screen legibility, we have used our real-life impressions to edit the images to get as close as possible to reality.
All images have been tweaked to get as close as possible to the actual legibility of a screen outdoors!
Scene 1: The Girl and the Castle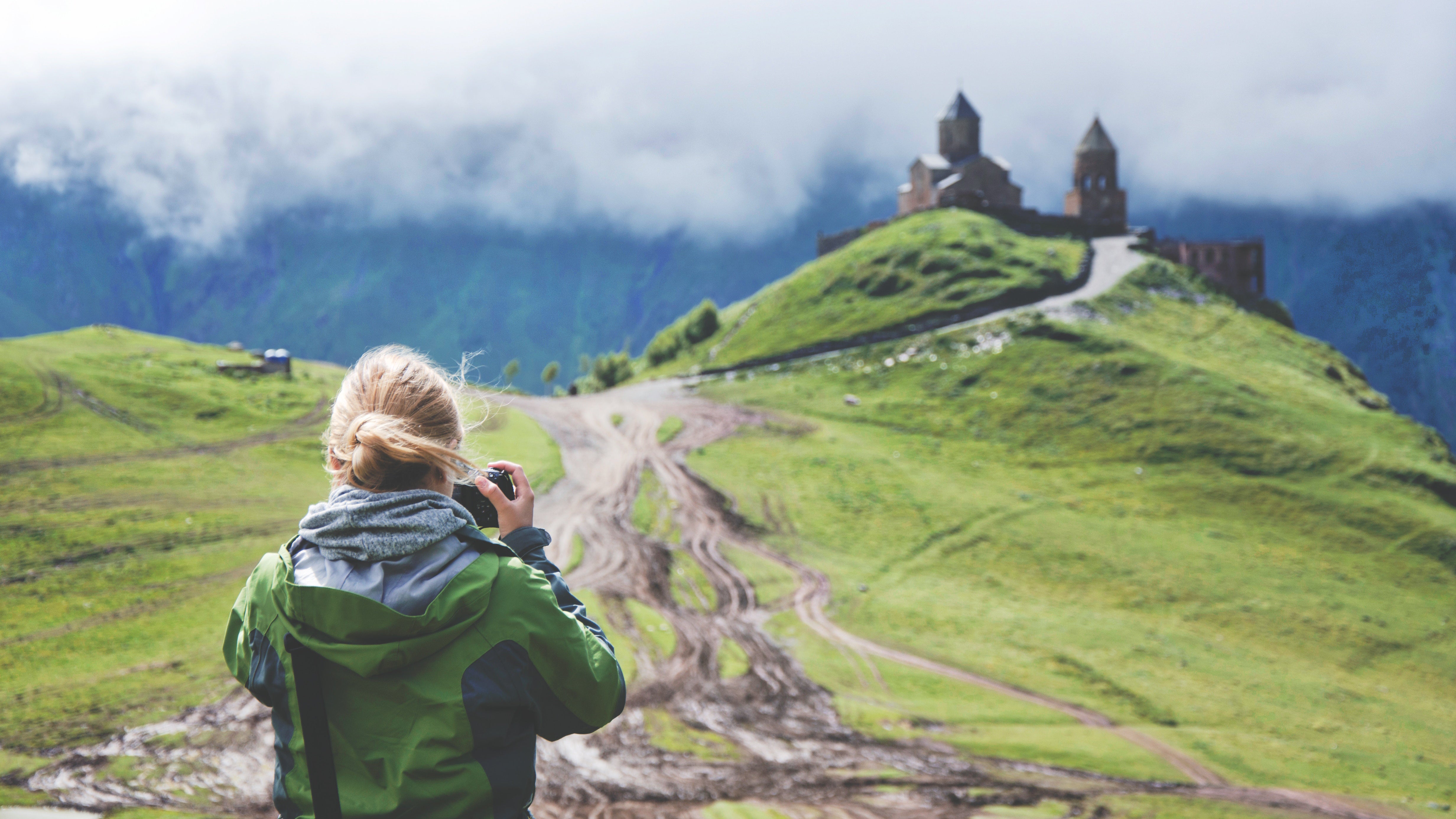 Original image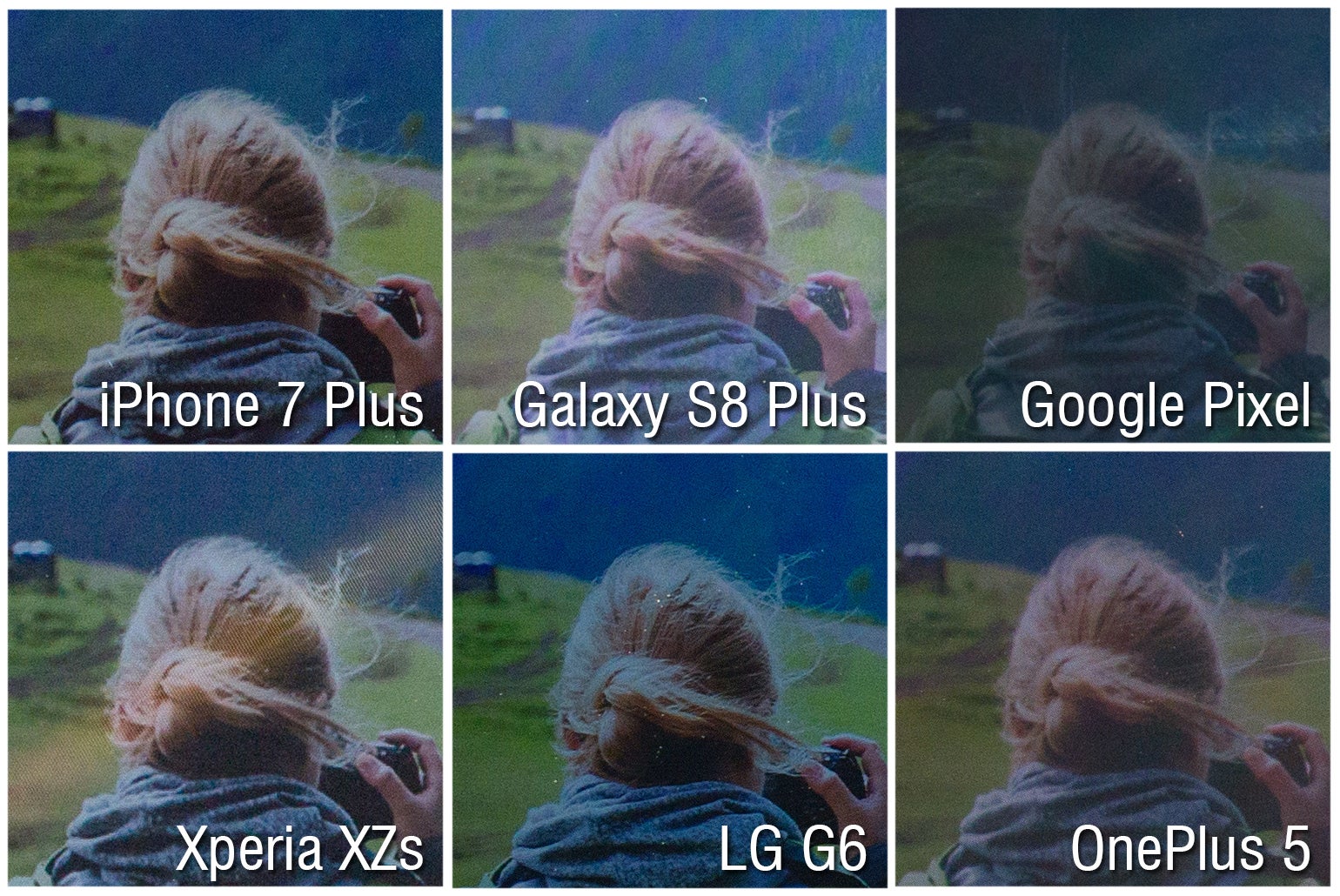 100% crops under direct sunlight
Some phones appear much brighter and it is much easier to see the picture on their screens. Notice something else interesting: colors appear different on all these phones. Some of the phones skew the colors, adding an extra punch and not keeping the color fidelity. We suppose there is some added processing going on with some phones, but what we will focus on here is visibility, not the colors per se.
Scene 2: A Donut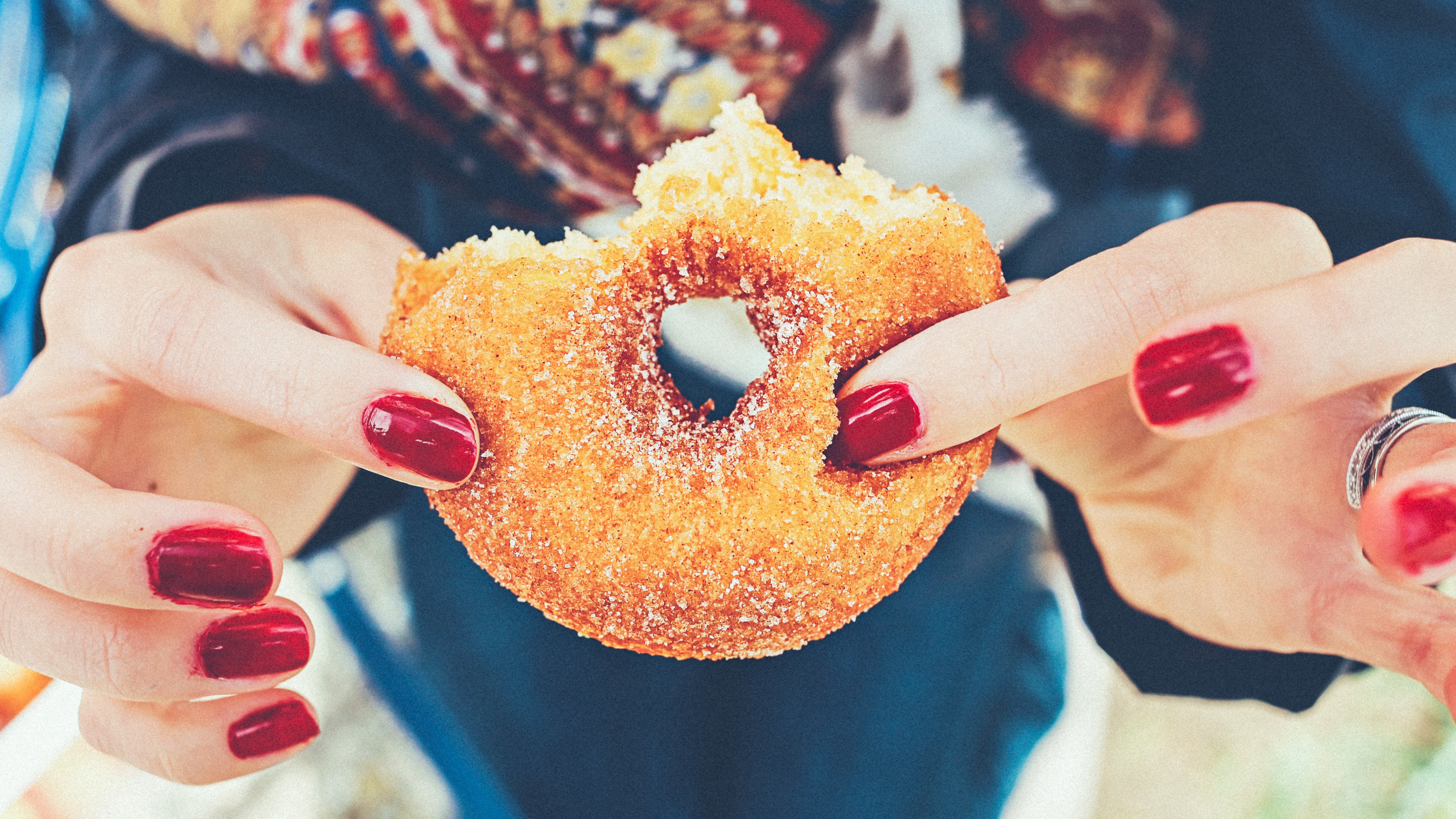 Original image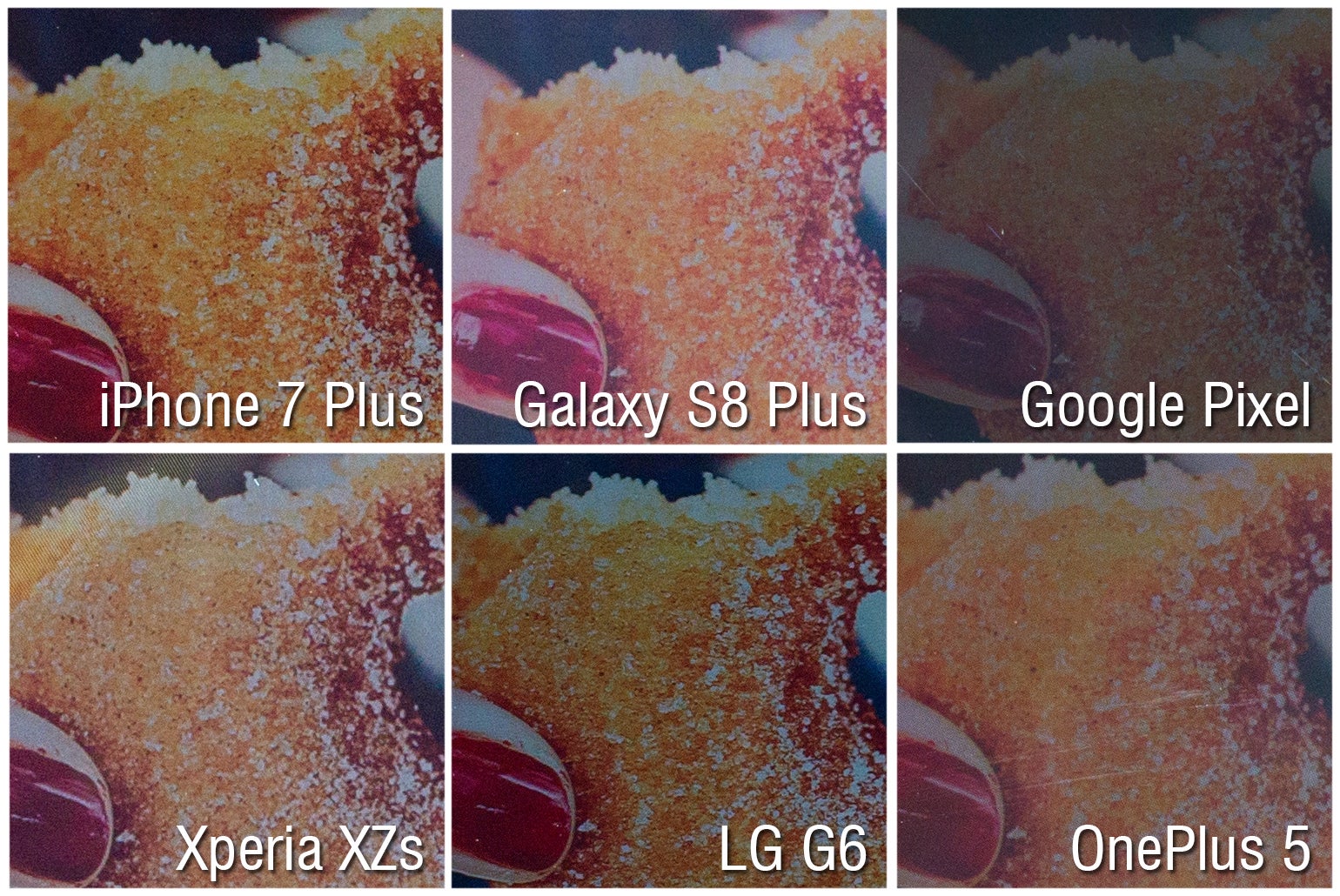 100% crops under direct sunlight
We can confidently say that the first three phones were relatively easy to see even under direct sunlight, while the rest were giving our eyes a hard time. There is certainly room for improvement in the bottom bracket.
Scene 3: PhoneArena-ception
Lastly, we used a screenshot of PhoneArena.com, as reading text is one thing that we commonly need to do on our smartphones. Here are the results that we got:
PhoneArena.com, 100% crop under direct sunlight
Again, we see three phones perform very good, and the other three - not so good.
And the winners are...
Disclaimer:

All images above have been edited to reflect the real-life legibility of the display. The conclusions below are based on our real-life impressions from the devices.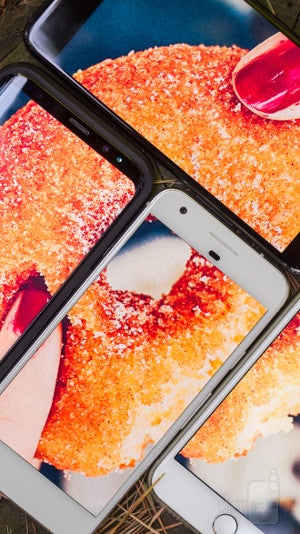 Smartphone displays are becoming more balanced, but also brighter. Just last year, we performed the same test and we are seeing some welcome progress. Take a look at how
last year's best phones performed on a similar test for some background
.
This year, the Samsung Galaxy S8+ emerges as the clear winner. It not only has a more immersive display with least bezel of them all, but also one that is capable of getting extra bright. Apple has stepped down from its top spot from last year, and this year it ranks third-best with the iPhone 7 Plus. Sony has meanwhile sneaked in at number two with its bright and legible Sony Xperia XZs.
And then we have the other three. While on the Galaxy S8, the iPhone and the Xperia XZs, we could see what's on the screen without too much eye squinting and effort, the rest — the Google Pixel in particular — are much more troublesome when you take them for a walk outdoors. So if you are one who uses their phone a lot outdoors, we strongly suggest you take these results into consideration. Your eyes will thank you.
RANK
FINAL STANDINGS
SCORE
#1

Samsung

Galaxy S8+

7
#2

Sony

Xperia XZs

6.5
#3

Apple

iPhone 7 Plus

6.2
#4

LG

G6

5
#5

OnePlus

5

4.5
#6

Google

Pixel

2