Deutsche Telekom still wants to sell T-Mobile
7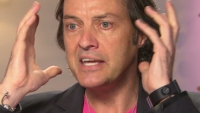 Despite a growing reputation for being innovative, and its rapidly growing size, T-Mobile still is not quite big enough on its own to go up against the big guys like Verizon and AT&T. So says Deutsche Telekom CEO Tim Hoettges. Now, you might wonder what the CEO of an overseas carrier has to do with T-Mobile. As it turns out, Deutsche Telekom owns 67% of the nation's fourth largest carrier.
Hoettges was hoping that
Sprint would be able to get a bid past U.S. regulators like the FCC and the FTC
. Sprint owner SoftBank had been working on getting the financing for a deal. However, SoftBank CEO Masayoshi Son was concerned that
SoftBank would have to give up too much in break-up fees
if the deal couldn't close. In 2011,
when AT&T decided to withdraw its bid for T-Mobile
also because of regulators,
T-Mobile received $3 billion in cash and a ton of spectrum
as a break-up fee from AT&T.
The Deutsche Telekom executive says that U.S. regulators are looking at the wrong thing. Instead of worrying that a Sprint-T-Mobile combination would drop the number of major carriers from four to three, he says that they should be concerned with Verizon and AT&T's duopoly. Hoettges is also concerned that the top two U.S. mobile operators have widened the gap with Sprint and T-Mobile by purchasing more spectrum in the FCC's recent mid-band auction.
Hoettges says that T-Mobile's current strategy cannot be sustained long term because of the $4 billion to $5 billion in investments each year that it needs to make in order to keep up. He also says that T-Mobile CEO John Legere has done a great job although "
his management style will never be adaptable to Germany
."
"His management style will never be adaptable to Germany. I like people being disruptive… I like people who are brave. He is very much fitting to our DNA, how we want to be, even if he is very American in his approach."-Tim Hoettges, CEO, Deutsche Telekom on T-Mobile CEO John Legere
Bottom line, while the Deutsche Telekom chief is impressed with T-Mobile's turnaround, he also hopes that the environment changes and that U.S. regulators would welcome consolidation in the industry with T-Mobile getting bought out by a monied partner.
source:
re/code
via
SlashGear