Designer reimagines iconic Nokia and Ericsson phones, upgrades them with Android and Windows Phone UIs
21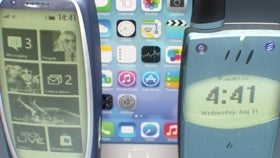 Nokia's 3310 and Ericsson's T28 were among the best phones money could buy about 15 years ago. Today, of course, their small, monochrome displays, their chunky bodies and obsolete features don't make them too attractive. But what if, in a parallel universe, the Nokia 3310 and Ericsson T28 ran Windows Phone, or Android? Well, designer Martin Hajek teamed up with German website Curved and reimagined both handsets, endowing them with smartphone interfaces: Windows Phone for the Nokia 3310, and Android for the Ericsson T28.
The Nokia 3310 was reimagined in two versions: one with a color display, and another one with the old (yet considerably larger) monochrome screen. Both have a 41 MP PureView camera on the back - this is something that
Nokia itself imagined
earlier this year as an April Fools prank.
As for the re-made Ericsson T28, this, too, has a large monochrome display - which makes Android look quite interesting. Take a look below (as you can see, some images compare the 3310 and T28 to Apple's iPhone):
sources:
Curved
,
Martin Hajek