Deal: Silicon Power's 128 GB microSD card is now just $35
31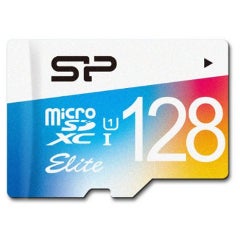 With a torrent of new smartphones having either been released or en route to market following
CES
and
MWC
, accessory and peripheral makers have kept their part of the bargain with some red-hot deals. A short while ago, for example,
SanDisk's 200 GB microSD card
dropped down to its
lowest-ever price
. If you're not looking for quite an extravagant amount of space, though, then Silicon Power's 128-gig effort can now be snapped up for a very reasonable $35.
While Samsung ditched the microSD expansion slot with last year's flagship duo, the much loved feature is back by popular demand with the
Galaxy S7
and
S7 edge
. Though Sammy's two new humdingers don't support it, Google has made some changes with Android Marshmallow that can greatly increase the usefulness of a microSD card. Known as Adoptable Storage, the feature allows a microSD to masquerade as internal storage, which is great news for those looking to install large apps, games and media.
Presumably, then, more folk will be looking to snag a new microSD card, and while the aforementioned SanDisk offer was very tempting, Silicon Power's deal of 128 GB for 35 bucks carries similar allure.
There are plenty of cheap SD cards floating around the Interwebs at rock-bottom prices. But as we've discussed before,
the market for fakes is currently thriving
. Silicon Power -- though perhaps not as renowned as SanDisk -- is a reputable outfit known for quality products. The firm's 128 GB Class 10 MicroSDXC ticks all the boxes of a high-performer with 75 MB/s read transfer speed, and arrives with an adapter should you wish to utilize that real estate for, say, a DSLR camera.
A $20 saving on the list price, this is a near must-buy for anyone seeking more mobile storage. Those interested in snapping up what is likely to be a limited-time offer can find the details at the source.