SanDisk introduces 200GB microSD card
48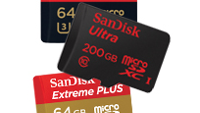 SanDisk today announced a 200GB microSD card for those who need a huge amount of expandable storage. The actual name of the card is the 200GB
SanDisk Ultra microSDXC UHS-I card, Premium Edition
. With the 200GB capacity, it goes right to the top as the largest capacity microSD card available for use in mobile devices.
Currently, the highest capacity microSD slot on a phone is the 128GB available on devices like the
HTC One (M8)
,
LG G3
and the
Samsung Galaxy S5
. Even some entry-level devices like the
Microsoft Lumia 535
feature a 128GB capacity slot.
SanDisk was able to create the 200GB card by taking the technology it used for the 128GB microSD card and revised the design and production method to fit more bits per die. At a transfer rate of 90Mbps, consumers can transfer 1200 photos in a minute. SanDisk VP Christopher Chute notes in a statement that 70% of images captured by consumers are now done on a smartphone or tablet. By 2019, that figure will be as high as 90% and consumers will be looking for additional storage space. And that is where SanDisk comes in.
"Mobile devices are completely changing the game. Seven out of 10 images captured by consumers are now from smartphones and tablets. Consumers view mobile-first devices as their primary means for image capture and sharing, and by 2019 smartphones and tablets will account for nine out of 10 images captured. As the needs of mobile users continue to change, SanDisk is on the forefront of delivering solutions for these demands as is clearly illustrated through their growing portfolio of innovative products, including the new 200GB SanDisk Ultra microSDXC card."-Christopher Chute, Vice President, Worldwide Digital Imaging Practice, IDC
The 200GB SanDisk Ultra microSDXC UHS-I card, Premium Edition will launch in the second quarter, priced at $399.99. It comes with a ten-year warranty. The card will store up to 20 hours of FHD video. Each card is waterproof, X-ray proof, magnet proof and temperature proof which means that your memories will survive just about anything.
source:
SanDisk
via
Engadget