Deal: grab SanDisk's massive 200 GB microSD card at its lowest-ever price
48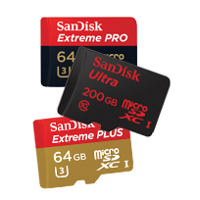 Even though many of today's smartphones offer plenty of on-board storage, having a little extra real estate is generally a good idea. SanDisk is a brand synonymous with high-quality, storage-focused solutions, and is by and large the go-to firm for a decent microSD card. The company
launched its mammoth 200 GB card
last year, with the $239 asking price considerably less than the initially
suggested retail cost of $400
. As tends to be the case with any and all forms of digital storage hardware, the price has dipped continuously since, and
reached a mere $89
only a couple of weeks ago. Now, with a slew of big new handsets on the cusp of release, the 200-gig card can be had for just $79.95.
With Android Marshmallow having added Adaptive Storage support, a microSD can function as additional
internal
memory rather than as a separate entity. This is great news for users of larger apps and games, many of which cannot otherwise be moved onto microSD. With an extra 200 GB on board, users can enjoy considerably more breathing space, and for $79.95 over at Amazon, the SanDisk Ultra (SDSDQUAN-200G-G4A) is as cheap as it's been.
There's no telling how long the deal will last for, so you may want to move quickly. With the recent announcement of devices like the
Samsung Galaxy S7
,
S7 edge
and the
LG G5
, the timing is very convenient, so hit up the source link if you're a heavy user seeking additional storage.