DaVinci Pinball for Windows Phone released as Nokia Lumia exclusive
9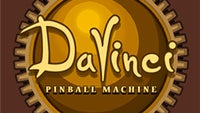 Remember the last time you played pinball? Us neither. This implementation of the old arcade classic game, however, sure looks like something worthy of attention. Developed by
Gameprom
, DaVinci Pinball is a new Xbox title available exclusively on Nokia Lumia smartphones.
As you can probably guess, this is a themed pinball game inspired by the work of the great inventor. The board features medieval weapons and mechanical gadgets that can be activated for extra fun (and points, of course). All of the action takes place on a beautifully-rendered, three-dimensional contraption, with mystical music playing in the background.
DaVinci Pinball can be played on a Nokia Lumia handset running Windows Phone 8, but phones still stuck with WP7.5 can get it too. And while the game isn't free, a free trial is available so don't hesitate to give it a try.