Cushi Band Frame Case for Samsung Galaxy S4 hands-on
4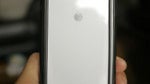 Do you love the look of the
Samsung Galaxy S4
, but don't want its look to be tainted by adding some kind of case? Well, if you want a minimalist look, while still giving just a smidgen of protection, you might want to look into the
Cushi Band
– yes, the Cushi Band. At its core, it's a bumper case that covers the outer bezel of the sleek smartphone.
Utilizing a dual injection mold, which consists of
polycarbonate and thermo-plastic polyurethane
, the flexible Cushi Band offers protection around the entire edge of the Galaxy S4 – similar to Apple's bumper case for its iPhone. However, it means that the rear casing and display are still left exposed to the elements. If there's one design aspect that we like about the Cushi Band, it's that the display and rear casing won't get scratched if it's laid flat on either side. At the same time, you get that
minimalist look
with the prized smartphone – plus, it's available in a wide range of rainbow colors.
Seeing that the Cushi Band only covers the outer bezel of the Galaxy S4, it's nice to see that it's priced reasonably at
$9.95
online. Now if you're worried about this thing coming off inexplicably, we'll tell you that the Cushi Band stays firmly in place and requires some force to actually be removed entirely.
More Samsung Galaxy S4 cases!
source:
id America