Samsung Galaxy S4 Flip Cover hands-on
20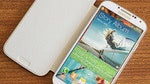 Pricey investments need to be protected if they are to serve their owner for a long time. And if you're planning on getting the
Samsung Galaxy S4
, then there will surely be plenty of options to pick from. The official Samsung Galaxy S4 Flip Cover is one of them. Made by Samsung itself, it is meant to protect the smartphone's front side against damage, all the while retaining the device's out-of-the-box look and feel to a great extent.
Think of the accessory as a stock Samsung Galaxy S4 back plate with a thin flip cover attached to it. The smartphone's original back cover is removed and the flip cover is snapped in its place. And it snaps firmly – so tight that you can rest assured it's never going to fall off accidentally.
Since the flip cover's back plate is identical to the stock cover, the back side of the Samsung Galaxy S4 is not altered visually in any way. It is even made of the same glossy plastic, which sure looks nice with its elegant, diamond-like pattern. Moreover, the shiny finish is just as highly resistant to fingerprints as the original component. We did notice, however, that the cover's back is a hair thicker, but the difference is highly unlikely to ever bother anyone.
While we do like the flappy flip cover for its grippy, textured surface, we are somewhat annoyed by the fact that it simply refuses to stay flat when the Samsung Galaxy S4 is resting on its back. Not too big of a deal, we know, but it would have been nicer having a couple of magnets or something to keep it in place. The other thing that bothers us is that while the smartphone is in use and the cover is folded around the back, the bending part prevents us from accessing the volume buttons comfortably. On top of all that, although we've been using the accessory for only a couple of days, signs of wear are already present right where flip piece bends – something we weren't expecting to see on a genuine accessory.
All in all, the official Samsung Galaxy S4 Flip Cover is great, but not quite perfect. On one hand, it is thin, good-looking, and provides a basic level of protection without adding any bulk to the device nor deviating from its stock appearance. However, the quality of the material its flip cover is made of leaves something to be desired, especially since the accessory retails for 31.99 euro ($41.80) apiece.
The official Samsung Galaxy S4 flip cover has been kindly provided to us by MobileFun. You can find many Galaxy S4 cases and covers at their online store.