Cut The Rope: Experiments HD finally hits Android
9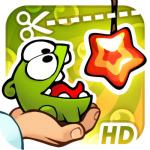 We have been waiting far too long for this one, but the magical day is nearly here: Cut The Rope Experiments is finally making its way to Android. The sequel to the dangerously addictive physics puzzler has been available on
iOS since last August
, and around the same time, we had heard it would be
coming to Android
, and that day is finally here.
CtR: Experiments features 125 new levels in total across 5 new settings, including Shooting the Candy, Sticky Steps, Rocket Science, and Bath Time. Many of your old favorite tricks are available here as well as new elements like rope guns, suction cups, rockets, and water. In case you were hoping for a deeper story than simply "Feed Om Nom", the game also has something of a story with new characters and even a narrator: the Professor.
All of that is the great news. One small bit of bad news though, the game is only available for the Kindle Fire today. The good news is that it is just a one day exclusive, and starting tomorrow, the game will be made widely available through the Amazon Appstore and Google Play Store. We'll update the links here as they come in. Launch price for the Kindle Fire edition of CtR: Experiments is 99 cents, so we assume that will be the launch price in the Play Store as well.