Cut The Rope: Experiments coming to Android at some point
9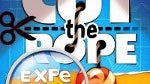 Things have been changing a little bit, but in general, especially with games, iOS tends to lead releases with Android versions coming afterwards. Cut The Rope: Experiments seems to be no different. The sequel to the original Cut The Rope
hit iOS last week
, but we still haven't seen any hints of the Android version. Today, in an interview, developer Zeptolabs confirmed that an Android version of Experiments is on the way.
In an interview with IGN, Zeptolabs confirmed that Cut The Rope: Experiments will be coming to Android, but wouldn't give any indications of a timetable. Given that the original game has already been ported to Android, we feel safe in assuming Experiments won't take the 8 months we had to wait for the original port. That said, we don't have any more stars to get in the original, so we're really hoping that Experiments hits Android sooner rather than later.
What do you think we'll see first on Android: the Toy Box level pack or Experiments?