Customize that Android 5.0 Lollipop! Here are some gorgeous themes for CyanogenMod 12
13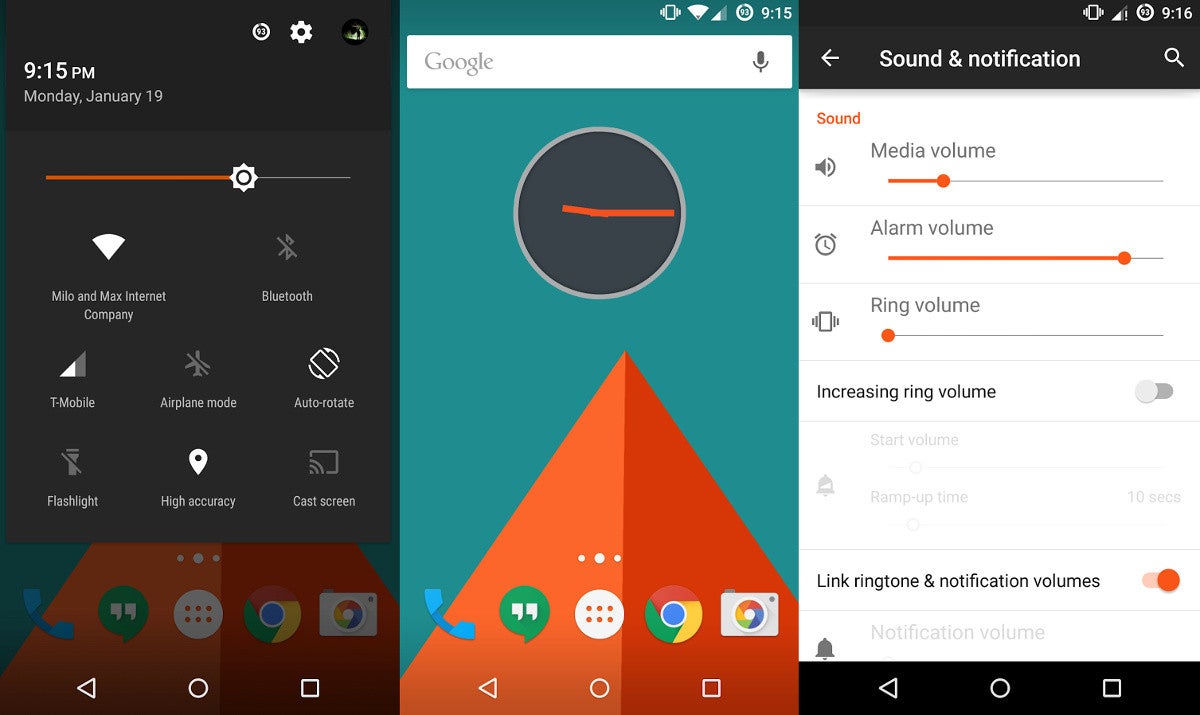 The looks of stock Android 5.0 Lollipop are truly a sight to behold, but still, there might be people who are not quite liking it. What if you hate teal, or, God forbid, the dominating white backgrounds. If this is the case and you'r aching to change certain aspects of the Material Design interface of your device, well, you can't do much if you're running vanilla Lollipop.
Delve into the land of custom ROMs, though, and the things will be quite different. Provided that you opt for one of the more popular and widespread aftermarket Android distributions - CyanogenMod 12 - then your theming endeavors will be crowned with success. It also works with other custom ROMs that have adopted the CM12
Theme Engine
. Thanks to this, you can change the looks of Lollipop as easy as abc - just download one of the available themes on Google Play and... well, that's pretty much it!
Although CyanogenMod's Theme Engine has been implemented in the nightly builds for roughly a week now, there is already a large number of intriguing themes that change the way Lollipop looks like. However, have in mind that you will surely encounter an issue here or there, but for the most part, CM themes work as intended. Let's check them out right below.
Elixium UI
This theme changes the looks of the following apps and tools: Dialer, Contacts, Calculator, Google Keep, Google Play Music, Google Play Store, SuperSU, Notifications, Dialogs, Fonts, Boot Animation, Wallpapers, Quick Settings, CyanogenMod Music, CyanogenMod Theme Manager, Cyanogenmod AudioFX, and others.
Flats
This theme changes the design of Contacts, Settings, Dialer, Calculator, Google AOSP keyboard, as well as many core Google apps (Android framework, systemui, etc.). It also comes with a boot animation, wallpapers, lockscreen wallpaper, fonts, full system style, and sound pack (ringtone,alarm tone, notification tone).
Dark Material
This theme will paint black the majority of your interface, including AudioFX, Bootanimation.zip, Browser, CyanogenMod Eleven (Music), CyanogenMod Theme Chooser, CyanogenMod Updater, Calculator, Camera2, CellBroadcastReceiver, Contacts, Dialer, DocumentsUI, Framework-res, Gallery3d, Gmail, Google+, Google Now Launcher (App Drawer), Hangouts + Hangouts Dialer, Keep, LatinIME (AOSP Keyboard), MediaProvider, Mms (Messages), Phone/Dialer (AOSP and Google), Play Store, Settings, Sound Recorder, SuperSU (In-Settings and seperate app), SystemUI, TeleService, YouTube, and others.
Blacked Out!
Own an AMOLED device with CM12 on it? This theme will probably save you some battery juice.
Teal
Teal CM12 Theme will change the following apps and interface aspects: Calculator, Contacts, most of the default Cyanogen Apps, Dialer, Downloads, Notification, Sound, SystemUI, ThemeChooser, and wallpapers.
Tigers Eye
This dark & orange theme will change the looks of your Calculator, Settings, SystemUI, Wallpapers, Analog Clock, as well as many system interfaces, such as as the notification/quick toggles drawer.
Rust
This CM12 theme will paint your whole interface rusty red (hence the name). It'll also change the looks of your Dialer, Contacts, notification drawer, and Quick Settings panel.
Zyxx UI
Unlike the previous themes, this one won't overhaul your Android Lollipop, but rather build upon the already-existing Material Design aesthetics.
CM12/RR/LS Blue
This theme changes your framework resources, SystemUI, Settings, Contacts, Dialer, and other aspects of your interface.
Antares
This theme comes with wallpapers, fonts, boot animation and changes the system UI, framework, the quick settings, and a slew of other system apps.
PiazzA
PiazzA does not only change the most part of your interface, it also comes with a dedicated icon pack (~1400 icons).
Flat colors
Flat colors will change the looks of your: Framework, Quick Buttons, Settings, Calculator, Dialer, Contacts, Google AOSP Keyboard,WhatsApp, Fonts, Gallery, Cyanogen SMS, Cyanogen music player, Theme chooser, etc.
Done yet? Well, don't forget to check out some of our customization columns: