Customization extravaganza: Best new icon packs for Android (June 2017)
2
Got a custom launcher? If the answer to that question is "yes", then you're also probably dabbling with custom icon packs as well. Depending on your tastes, these will either greatly improve the looks of your interface or create a despicable mess of unsightly elements that mar your home screen.

As we want to help you avoid the latter scenario at all costs, we always strive to provide you with the best new icon packs that hit the Play Store on a regular basis. Here's a bunch of cool new ones that arrived on the store in the past fortnight or so.
One look and two things immediately become evident - Erza is simply beautiful, no two opinions about it, and you need to have it on your Android device, no doubt! There are 1,300 icons with more than 300 alternatives for the more popular apps out there. 20 handpicked wallpapers complete the feature set of Erza, making it an excellent pick!
Erza icon pack screenshots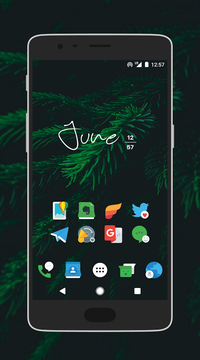 You will find 1,360 icons of great quality and excellent aesthetics inside Iris, alongside with more than 30 beautiful wallpapers from popular stock photo resource base Unsplash.
Glitch
Glitch
a r t
has quite the following despite its often weird
a e s t h e t i c s
. Anyways, this icon pack would let you glitch your interface in a
w a v y
manner with more with tons of icons that adhere to different styles yet all conform to the uniting glitch style. There's also a whole lot of 200 wallpapers on deck, allowing you to perfectly match the backdrop with your interface icons for maximum vaporwave value. Perfect!
Finite
Loving vintage, dated icon packs that bring retro to your phone? Err, sure you do! Finite is one of the newest icon packs to arrive and do its best to bring some novelties to the retro-themed icon scene. A great addition with more than 1,054, we recommend you try out Finite if you find such retro-themed things awesome.
Pixel Cylinder UI
First we had squares, then we had circles, then squircles came around, and now... what is this? Squirtagons? Nevertheless, there are 5,900 icons aboard this icon pack, which is a pretty large amount of icons, no matter how you look at it. All of these can be yours for $1.49. To top the offer, you have a bunch of cloud-based wallpapers in tow.
Farrago
Farrago is not something exceptionally revolutionary, but it's a neat icon pack nonetheless. With its circular shape, Farrago is a run-of-the-mill icon pack but that's not such a big problem considering how well this one's executed.
"Unique, colorful and shapeless" is how the developer of this app describes its creation and that perfectly encapsulates the whole philosophy behind it. You get over 1,100 icons and 1,200 themed Android Nougat activity shortcuts with Corvy. This means that long-pressing any icon will open up a menu with a bunch of app-specific activities, which is a great touch. You also get a bunch of Zooper and KWGT widgets with Corvy - excellent.
Dream Score
Inspired by Galaxy S8's interface, Dream Score aims to make your phone's interface resemble the one on Samsung's flagship. You will find 1516 aboard Dream Score provided you opt to shell out $0.99 for this one.
Diagonal
Diagonal has a rather unique style that really sets itself apart from the competition. It's cool and all, but the relatively lowly amount of icons on board—roughly 500— might scare off some potential adopters. Don't let this chase you off - Diagonal is a worthy new arrival to the scene.