Cushi Plus Samsung Galaxy S III case hands-on
2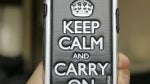 Even though it's already being shown the door by its successor, the
Samsung Galaxy S III
is still a relevant smartphone in this day and age, especially now when it's being positioned as a worthy mid-range offering. With that in mind, we're certain that it'll garner some additional sales to keep it chugging along. Interestingly, we came across a new case for the beloved smartphone that requires a smidgen of work to get it completely set up.
To be more specific, we've been taking a closer look at the
Cushi Plus Samsung Galaxy S III case
, which traverses a different path from many other cases. Rather than being a simple throw in your phone into a case scheme, the Cushi Plus actually requires some work on our part. Employing a
3D padded skin
for the handset's rear casing, which is essentially a decal, we have to make sure to carefully align things just right, so it's perfectly centered. With its "
keep calm and carry on
" tagline, we're a bit skeptical as to how the case will actually keep you on the optimistic path. Still, we'll be the first one to admit that this 3D padded skin is, well, you know, different amongst other cases.
Protecting the edges, the case has a
Cushi band
to give the handsets some shock absorption in the event it's dropped from short heights – though, we don't think it'll do much from higher ones. Finally, there's a
screen protector
included as well with the Cushi Plus case, to give it that "
360-degree
" protection. Donning a retail price point of
$24.95
, it's definitely different from other snap-on/slide-in cases, but more importantly, it's the 3D padded skin that makes it so unique.
More Samsung Galaxy S III cases to check out!
source:
id America