Current Storm 2 model claimed to be "awesome"
This article contains unofficial information.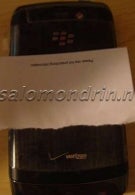 A source providing RIM-related info, Salomondrin, apparently has us as one of its must reads of the day. After perusing our lukewarm preview of a preproduction unit of the BlackBerry Storm 2 9550, he responded by saying, "Yes, we all saw that great Phonearena review with the logo on the back,but the hardware and software were a little too old, so somethingseemed a little strange to say the least. Anyhow, we got a hold of abrand new Verizon Storm 2 and its awesome." First, we need to correct Salomondrin. We did a
preview
of the BlackBerry Storm 2 9550, not a review. In the beginning of our preview, we did note that the model we had was a preproduction unit and likely to change.
RIM BlackBerry Storm 2 9550 Preliminary Specifications
|
Preview
source:
Salomondrin.net