Crooks near San Francisco are ripping off Apple iPad buyers using floor tiles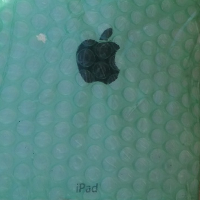 In the past, we've
seen a mirror
,
note pads
and a
block of wood
sold to unsuspecting buyers as an Apple iPad. Now, folks in a city near San Francisco are getting ripped off by the latest iPad scam. People walking in Ceres, a city south of Modesto, are being approached by sellers, offering them iPads for cut rate prices. Those that took the bait ended up shelling out hundreds of dollars for what they thought was a brand new tablet.
Once at home, the buyer would quickly open the box only to find that what they paid all that money for, was a tile with an Apple logo pasted on it, or a box full of packaging peanuts. By including some of the proper documentation and placing the Apple logo in the right spot, the scammers are able to pull one over on their marks, even if they make a quick perusal of the inside of the box.
If you're going to buy an iPad from someone standing on a street corner, you need to open the box and take out the device to examine it. Otherwise you just might find that you've been ripped off. While this has been happening often in Ceres, it is a scam that can happen anyplace. Don't be foolish.
source:
SFGate
via
BGR