Victim pays $200 for an Apple iPad in a gas station parking lot that turns out to be a mirror
99+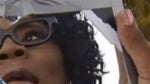 We never like to hear about someone getting ripped off and losing their hard earned dollars, but sometimes it is the price you pay for a lesson. And we hope that our loyal readers also learn from this story so that they don't repeat the
same mistake
. Before we get started, just remember that if a deal sounds too good to be true, it probably is.
Our story revolves around one Jalonta Freeman who was approached at an Arlington, Texas gas station parking lot by a stranger. This stranger was selling laptops and tablets at a discount and piqued Freeman's interest when he offered to sell her an $800 Apple iPad for the crazy low price of
$200
. Instead of the price raising a red flag, with the holidays around the corner Freeman felt this was an offer she could not pass up, so she handed over $200 to the stranger, who quickly left the scene.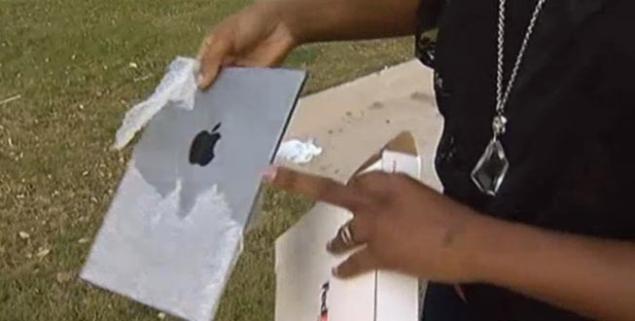 The phony Apple iPad might have fooled some people with the Apple logo on the back
At first, it looked like Freeman had made a great deal.When she unwrapped the "iPad", the back looked genuine with the Apple logo, but the front was covered with a number of stickers and labels that later
revealed a mirror
instead of a Retina display. Freeman was ripped off and worse of all, she had no recourse. While she did call the cops, without the seller's license plate, there was nothing that the police could do.
Hopefully, you won't find yourself making the same mistake. The
fourth generation Wi-Fi only Apple iPad
costs $499 for 16GB, $599 for 32GB and $699 for 64GB. Add $130 to each price for the Wi-Fi + Cellular cost. Anyone trying to sell you a current model Apple iPad for $200 is trying to rip you off, plain and simple.
For some reason, the Apple iPad is often used by scammers. Last month, we told you about
a mother buying an iPad from Walmart for her kid's birthday present ended up with a box of notepads
. And in August 2011, in a case similar to what happened to Ms. Freeman, a woman in South Carolina
spent $180 for what was supposed to be an Apple iPad but ended up being a block of wood
.
source:
NBC
(Dallas-Ft.Worth) via
NYDailyNews