Cricket World Cup 2015 can be streamed live to your iOS or Android phone and tablet
37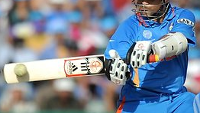 As a sport in the U.S., the popularity of cricket falls somewhere south of curling. But there are some who now live in the U.S. who spent their formative years in a region where cricket is played, and would love to watch the Cricket World Cup on a mobile device. First, some background. For those unaware, the Cricket World Cup is played every four years and includes the 14 top teams in the world. This year, those battling for the title include England, Australia, Sri Lanka, Bangladesh, New Zealand, Afghanistan, Scotland, South Africa, India, Pakistan, West Indies, Zimbabwe, Ireland and the United Arab Emirates.
All 49
games
matches can be viewed live in the U.S. from the ESPN Cricket app (natch!) which is available for iOS and Android devices. In addition, if you miss a match that you've been dying to see, you can watch it on-demand at your convenience.
We are sure that there are some baseball fans out there who might be interested in checking this sport out. However, we must warn you that the price of the app is $99.99 which pretty much limits its use to those who are really passionate about the sport.
Perhaps ESPN should have followed the lead of India's Star Sports, which is charging Android and iOS users in the country just $2.50 to have all 49 games streamed to their mobile devices live. In India, cricket is extremely popular.
source: ESPNCricket2015-U.S. (
iOS
|
Android
), StarSports-India (
iOS
|
Android
), SkyGo-U.K. (
iOS
|
Android
), NOWTV-U.K. (
iOS
|
Android
), SMARTTV-Pakistan (
iOS
|
Android
), via
RedmondPie