Could Microsoft have a dual-curved Lumia edge-like phone in the works?
12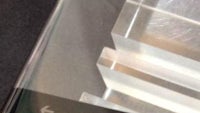 The curved display is slowly becoming a buzzword as of late. The concept was introduced by Samsung with the
Galaxy Note Edge
, back in September, and was truly popularized with the introduction with the attractive
Galaxy S6 edge
. In fact, the design turned out to be so desirable that demand for the curvy phone, reportedly, caught Samsung off-guard, forcing the manufacturer to
re-balance
the
quotas
and suppliers between the regular S6 and the edge variant.
Of course, other manufacturers also see the viability in the futuristic arching glass – LG, for one, has been spotted to showcase a
secret prototype
of an edge-like handset at this year's CES, but it was eyes-only for select partners.
Well, it seems that LG was not the only one making strides in this direction – a recently leaked Nokia glass panel shows that the company may have had a prototype for a curved-display design at some point before the Microsoft acquisition deal was finalized. What we have is a photo, posted by editor of prominent leakster website nowhereelse.fr, which shows a part of the front panel of what was obviously meant to be a Windows smartphone. We can catch a glimpse of a pretty dramatic arch on the left of the panel, suggesting that it was meant for a phone that would have edge-like looks, or even functionality, on at least one side of its screen.
The panel is inscribed with the address to Nokia's website proto.nokia.com, which is why we believe that it's safe to assume that the device was to be built by Nokia pre-acquisition. Now, whether the experiment was scrapped at some point, or is further developed by Microsoft, remains to be seen. If it just so happens that Redmond has an edgy Windows phone in the works, the soonest we may see it is some time after the Windows 10 release, as Microsoft has said that the next Lumia flagship will be announced once the operating system update is done.
Recommended Stories