Costco is planning to stir things up with the LG Thrill 4G by pricing it at $29.99?
7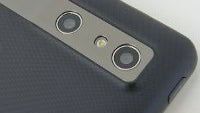 Inching ever closer to that
inevitable date of September 4th
, AT&T customers are probably getting antsy about finally being able to experience all of the goodness coming along with the
LG Thrill 4G
. Thankfully though, we're getting some additional news from one tipster that should surprise some people waiting for the handset.
So far, we've seen some
stellar pricing from a variety of retailers
regarding the LG Thrill 4G, but even
AT&T's very own $99.99 on-contract price
for the phone is seemingly attractive. Well folks, it looks like
Costco
might be beating everyone to the punch as they intend on selling the phone on launch day for the ridiculous price of only
$29.99
!
Specifically, we're being told that new (primary line) and existing customers with qualified upgrades can pick up the handset for $29.99 with a 2-year agreement.
Strangely
, new customers that are planning to make a family account will need to pay $49.99 for the handset on lines 2 to 5. We're not entirely sure why that's the case, but nevertheless, the pricing is still indeed alluring for a phone equipped to the teeth with some delectable hardware specs.
Additionally, they're going to be offering their
accessory kit for free
to anyone planning on buying the handset, which consists of a case, car charger, and 2 screen protectors – that's not shabby at all for $29.99! Besides the information about the LG Thrill 4G, our tipster also mentions that Costco will be selling the
Motorola DROID BIONIC
on launch day for the rumored MAP price of
$299
.
With so many places
offering the LG Thrill 4G for cheap
, you might want to take Costco into consideration as well now that they're planning to spice things up.
Thanks to our anonymous tipster!