Cortana calls Siri "fat" in the latest Microsoft Lumia 830 commercial
22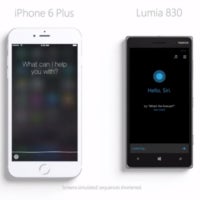 Microsoft will be gearing up for the holidays, it seems, and the first smartphone to be put on display is the
Lumia 830
– or the so-called "affordable flagship". At least that's what the company likes to call the 830, as its concept for the phone was to achieve high-end performance with mid-range hardware, and stick a mid-range price tag on it.
So, the new commercial has a Lumia 830's Cortana and an
iPhone 6
Plus' Siri converse for a while, and naturally, Cortana talks about some of her functions, in a natural voice, whereas Siri is represented with a cold, robotic voice, which just repeats "I got bigger, I got bigger". "Happens to everyone this time of year", Cortana says. No way, she just called Siri fat!
If you're interested to see how Cortana fares against Siri and the Google Now assistant, check out our test
here
. There were also other experiments, which aimed to explore how well all three assistants fare with more complex questions, or how deep their knowledgebases are. Check them out
here
and
here
.
The Lumia 830 may be an "affordable flagship", according to Microsoft, though,
some fans
found its hardware to be disappointing, and not worth a $450 (off-contract) price tag – a 720p 5-inch display, Snapdragon 400, paired with 1 GB of RAM, 16 GB of internal storage (expandable to 128 GB), and a 2,200 mAh juicebox. Of course, the phone does shine in the camera department, with a 10 MP PureView camera with OIS, though, it drops the ball with the 0.9 MP frontal cam.