Cortana brings wit and personality to Android
7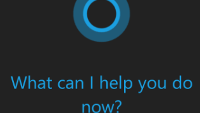 The other day, we downloaded and installed the Cortana for Android beta on a
Motorola DROID Turbo
, and we have to say that the app is a welcome addition to any Android phone. The big difference between Cortana and Google Now can be seen when you ask both to tell you a joke. Cortana replies with a corny joke while Google Now gives you a link to several joke sites. Cortana has a personality which makes you want to use the app as your virtual voice activated personal assistant.
Keep in mind that the version of Cortana you can install on Android is still in beta. Several features are not running. When we tried to send a text message using Cortana, we had to type in the name of the recipient and type the message. Using Google Now, we can send a hands-free text by saying the recipient's name and dictating the message.
Your decision on whether to use Cortana might depend on how you feel about Bing. Obviously, Cortana's go-to search engine will be the latter. We did find that when it comes to the weather, stock prices and sports scores, it's pretty much a toss-up between Cortana and Google Now.
The Cortana for Android beta is available from the Google Play Store. Give it a shot and see whether you'd rather have a virtual assistant with a personality handling your chores.
To become a Cortana for Android beta tester,
click here