Cool musical accessories for iPad and iPhone
2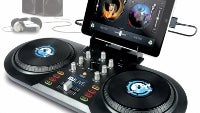 The iPhone and especially the iPad, received somewhat of a cult status as a musician's best friend after their release. A lot of people who were into Macs and iPods before, were into music as well, so naturally a number of apps appeared on the iPhone for everything - from tuning your guitar, to playing the piano. When the iPad increased the screen real estate available, we even had
popular bands creating albums solely on Apple's tablets
.
Needless to say, the accessory industry amplified (no pun intended) this trend, outing an abundance of accompanying devices for music lovers out there, that worked in sync with their iPhones and iPads. We are not even talking about
speaker docks that double as a nightstand
here.
There are turntables, stomp pedals and vinyl records-iPhone transfer systems. We round up a few of the interesting ones that might make you eager to unleash your inner DJ, while you wait for the
wonders of the next iPad
.